WE ARE LIVE at KC HELP Tri Cities
By: Jerry Rhoads ~ 4/14/2020
On April 7th we re-opened the doors for our Tri Cities program. We were testing our new curbside service and our segregation of returned and donated equipment sanitization process. We also trained our volunteers on proper use of Personal Protective Equipment (PPE). Our Volunteers report all went smooth and we are ready for the Grand Re-opening Tuesday April 14th on our regular schedule (Tuesday & Thursday 10am to 2 pm).
So here are the new guidelines -
When you arrive at our facility at 324 W. Margaret St Pasco, you will be greeted by an outside volunteer dressed in PPE. The volunteer will provide you the following handout. Please remain in your vehicle for curbside service.
Welcome to KC Help
To comply with CDC Social Distancing Guidelines we have implemented New Social Distancing Rules by providing Curbside Service. Unless you are invited into the building. Please Remain in your Vehicle.

To obtain medical equipment:
Step 1: Call in your order to 509 792 1110 when you arrive at our Service Center. Please provide a description of your vehicle and/or your car license number. Please be patient with us as our Phone Volunteer may be helping someone else.
Step 2. Your order will be assembled and distributed via our Margaret street roll up door.
Step 3. A volunteer will bring the equipment to your vehicle and load it.
Step 4. A volunteer will provide a receipt for your records.
By accepting this equipment, you are agreeing to assume all liability associated with the use of this equipment. If you have any problems with its operation, please return it and we will issue you another item.
To Return Equipment or Donate Equipment
When you no longer medically need the equipment, you may return it to our facility. A special sanitizing container is onsite to receive it.
Step 1. Let outside Volunteer know you are bringing equipment to donate or return.
Step 2a. If equipment is small and portable, the Volunteer attendant will transport the equipment to the sensitization container on our west side.
Step 2b. If large or bulky, the Volunteer will have you drive up to the sensitization container and the Volunteer will off load into the container.
Because of potential surface contamination from other equipment, please do not attempt to help the Volunteer with the transfer. If additional help is needed, other volunteers wearing personal protective gear will be called to assist.
Step 3. The Volunteer will complete the appropriate form (Return or Donation) and provide you a copy.
Exceptions:
If you need to come into the facility, let the Volunteer know and you will be instructed to line up along the west side of the building maintaining 6 feet separation. Blue lines on the pavement will guide you on distancing. If you are a Dial-a-ride or bus commuters or you are invited in (i.e., for fitting with the equipment), please let the Volunteer know. You will have your temperature taken and will answer a few questions. We will require you wear a facemask. If you don't have one, we will provide one subject to availability.
In our waiting/fitting room, we will limit the number of people to maintain social distancing. You will find only a few chairs and Plexiglas counter shield for your protection.
After being closed for the last half of March, it is good to be serving again. One of our first clients was an elderly man that needed a hospital bed for his wife while recovering at home from COVID-19.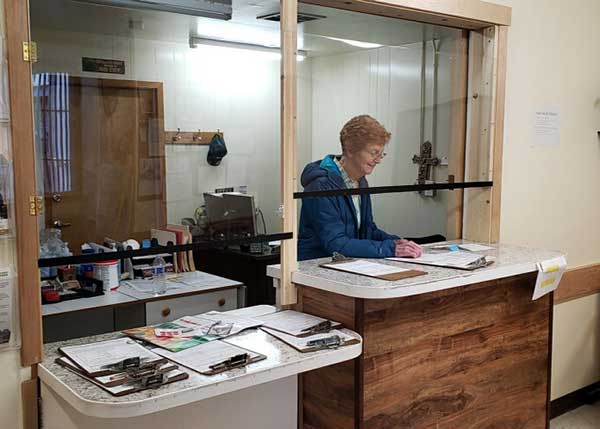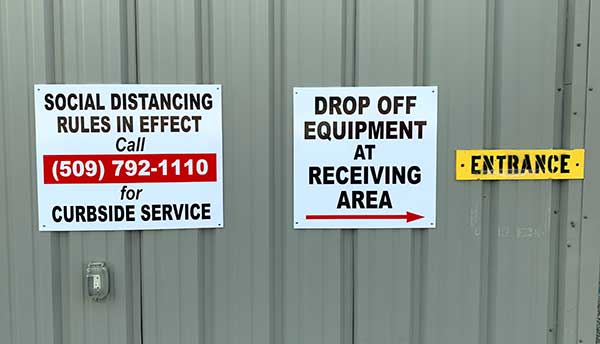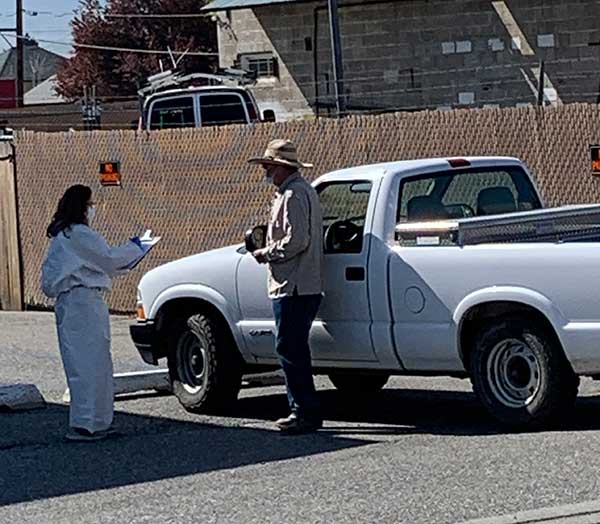 ---