Our Mission in San Felipe Spreads Outward
By: KC Help Team ~ 5/17/2021
As many of our fellow followers know, we started a KC Help mission to Mexico three years ago. Mario Gamboa and Sharon Rhodes are the leaders for this outreach. Sharon transports the equipment to her home in San Felipe and with the support of our fellow Richland Knight Mario who also lives in San Felipe, our equipment finds new homes. He is the Director of KC Help Mexico and he coordinates, translate, and connects stakeholders in Mexico to make this all possible. Sharon has gathered a crew of supporters in San Felipe among them are some parishioners from Our Lady of Guadalupe Parish to distribute the equipment. Since our storage space is limited in our current warehouse and donations are growing beyond our current abilities, we needed to find a means of finding homes for our excess durable medical equipment. This is a story of an excess wheelchair from our Tri-Cities inventory finding a home.
The story begins the first part of April this year, when the Mexican Government approved another load of durable medical equipment to cross the Border. KC Help Tri Cities volunteer Knights, loaded our 16 foot trailer with wheelchairs, walkers, canes and crutches. All of this was collected at Sharon's garage at her home in Pasco. Special help from Kasti Express movers on Wellsian Way in Richland professionally packed the trailer for transport. Without delay, off Sharon went pulling the trailer some 1100 miles to San Felipe.
After receiving an encouraging greeting at the border, the equipment arrived at Sharon's garage in San Felipe. From there, it was dispersed to six clinics that serve as emergency loan closets in and around San Felipe. One of those was in San Matias, one hundred miles into the mountains and so small, it is not on Map Quest. The main street is a dirt road with scattered huts, shacks with accompanying outhouses that make up most of the villager's homes.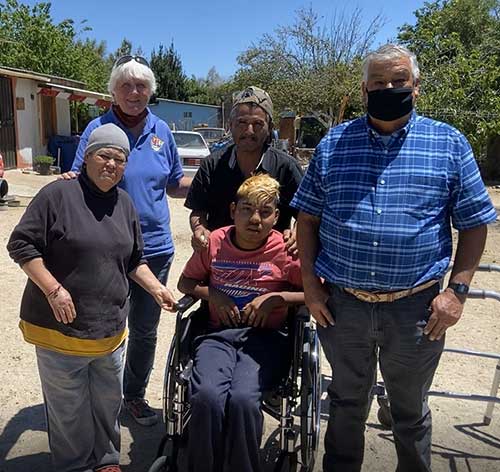 They arrived and started unloading a few wheelchairs, walkers, and crutches, when a dad was seen dragging his son Juan, in a wheelchair toward them along the dirt road. Juan has been unable to walk since birth. The wheelchair was similarly crippled. It's wheels didn't work, they were frozen. His dad had to push and slide the wheelchair along the road to transport his son wherever he needed to go since he was too big to carry. One of the wheelchairs that had just arrived from us, found a new home. The joy, gratitude, and tears from both Juan and his dad, brought matching tears to the eyes of Sharon's crew. Juan was so happy. He could now move on his own for the first time in his life. It was a very good day.
---